Get FREE standard shipping on orders over $100
Lorex offers three different types of security cameras: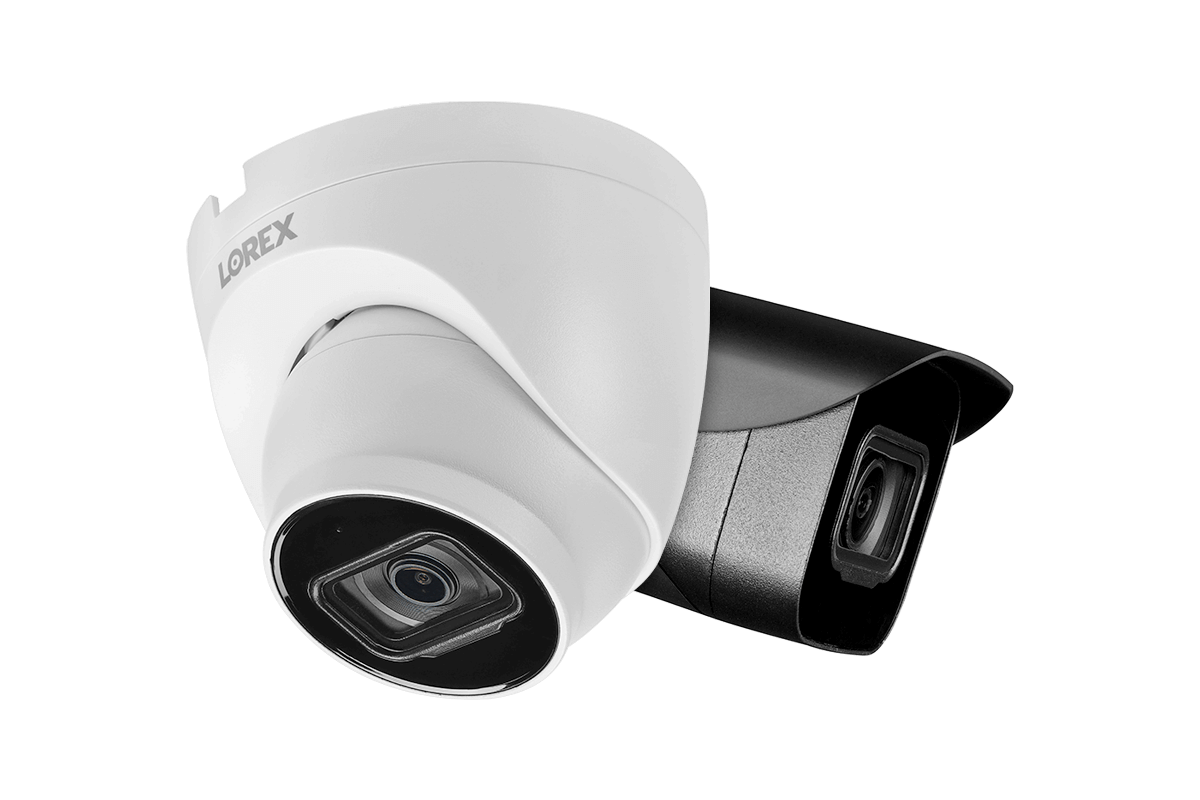 There are two types of wired security cameras: IP and Analog. IP Cameras connect to an NVR and Analog Cameras connect to a DVR. Wired security cameras offer continuous security recording in the highest resolutions.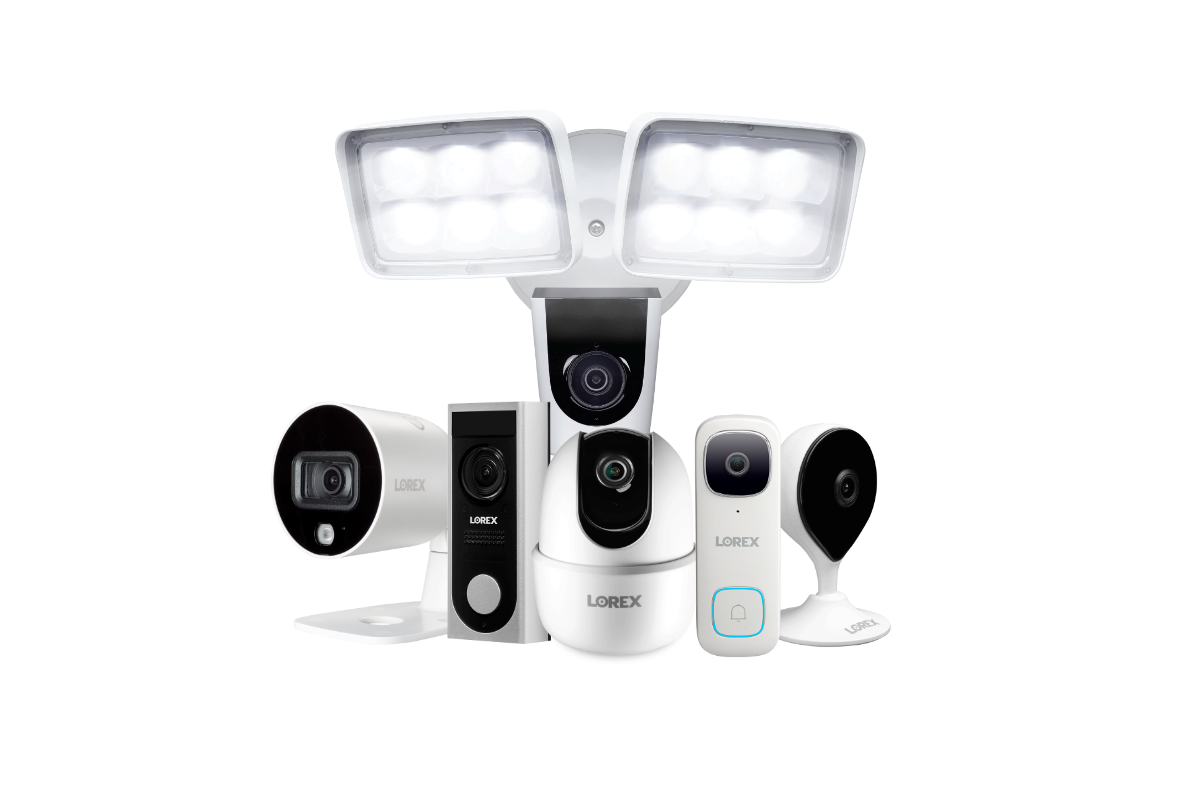 Wi-Fi Cameras can be used as stand-alone security solutions that do not require a recorder. They connect to your home wireless network in minutes and record to an on-board microSD card. Indoor and outdoor models available.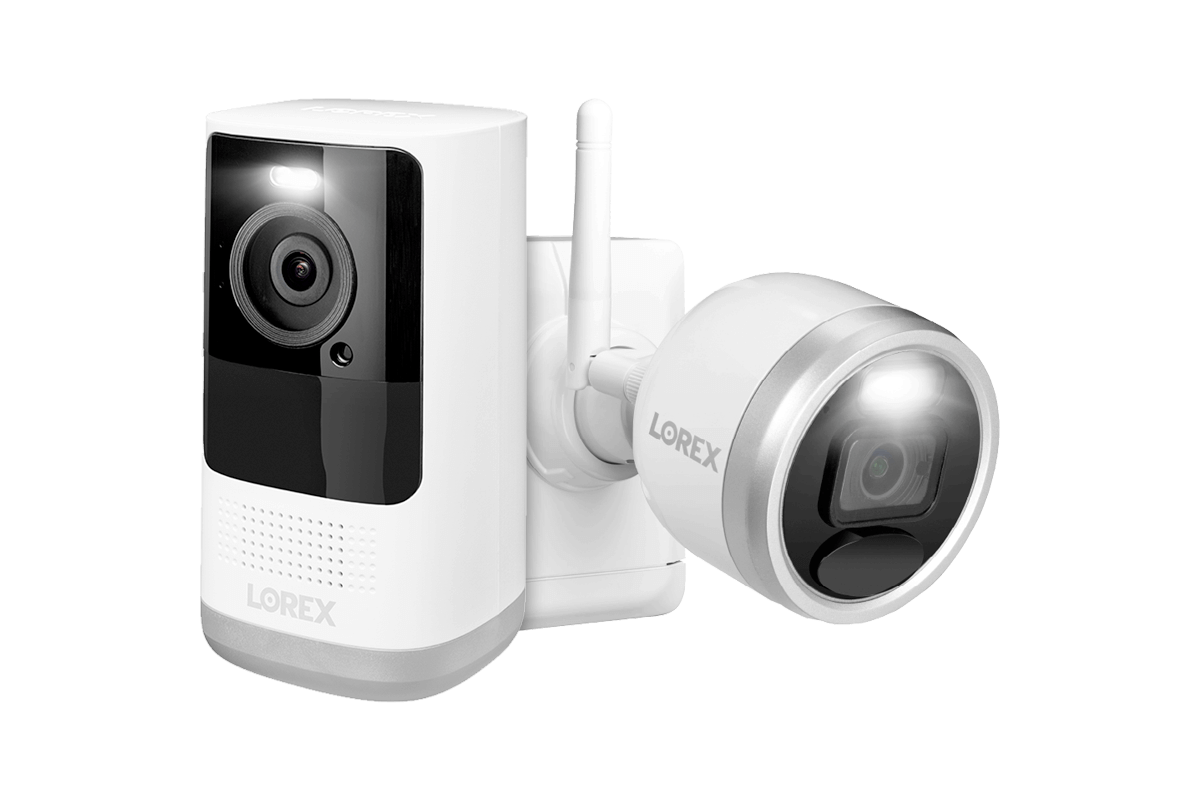 Wire-Free cameras are battery-operated and transmit recordings wirelessly to a DVR or Hub. They are designed to start recording the moment motion is detected and return to stand-by mode after the event to conserve battery.
Specialty Security Cameras
Each type of camera comes with unique features designed for specific security needs.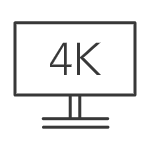 Lorex is among the first in the industry to introduce 4K technology to our cameras and recorders. With a video quality four times that of standard 1080p cameras, you will have sharper and more vivid video, which is a must in today's video surveillance trend. Cameras with 4K capability are perfect for monitoring high traffic areas, which requires you to capture minute details, distinct features, and facial characteristics. Our 4K cameras also provide better digital zooms so you can see details far in the distance.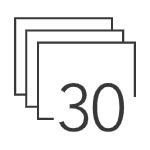 4K @ 30 FPS Security Cameras
Typical 4K security cameras record a maximum of 15 frames-per-second. A select few of Lorex's IP cameras, however, can record at a rate of 30 frames per second (fps) in 4K resolution. This frame-rate is considered "real-time." This means incredibly smooth motion that doesn't miss a beat. In general, a 15fps frame-rate is adequate for everyday house monitoring. If, however, you are monitoring sensitive assets and / or high-value properties, a 30fps frame-rate will provide you the oppurtunity to capture the best moments for evidence.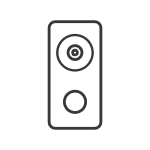 With a Wi-Fi Video Doorbell you will always know who's at the door - whether you're home or not. Easily installed using your existing doorbell wiring, a Lorex doorbell simply connects to your local Wi-Fi network and our Lorex App. After that, you will be able answer your door from virtually anywhere in the world. Local microSD card recording also keeps your data totally private and avoids any monthly cloud service plans. With HD recording, IR night vision, and an ultra-wide angle lens, a Lorex video doorbell will add both security and convenience to your home.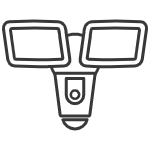 You're outdoor lighting can be so much more than just a light. Why not add some security by replacing your older light fixtures with a Lorex Wi-Fi Floodlight security camera. Floodlight cameras can be set up to turn on their bright LED lights on motion. This can add both lighting and security to your property. A remote triggered siren and two walk talk capabilities also adds some important deterrence for unwanted visitors. Like other Wi-Fi cameras, Floodlight cameras use local microSD storage and have no additional fees after prurchase.
Color Night Vision Security Cameras
When darkness blankets the night, you don't want your cameras to go dark too. With our Color Night Vision (CNV) cameras, you are not only guaranteed to see in the dark, but you will also be able to see in the dark in full color. Note, though, that CNV technology is dependent on ambient lighting to record in full color. If there is no external lighting, the camera will automatically record in infrared night vision (back and white) mode. Whatever the case may be, a color recording at night is a crucial piece of evidence as it's packed with tons of details.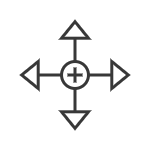 Lorex Pan-Tilt-Zoom (PTZ) cameras are designed to cover vast expanses of properties. With a 360 degrees panning rotation, a -15 to 90 degrees' tilt, and up to 25 times optical zoom capability, our PTZ cameras are extremely versatile, agile and nimble as they can point and zoom in any direction. PTZ cameras can always be remotely controlled through a Lorex App or from the recorder. You can also use the recorder to create preset tours where the camera will automatically cycle through programmed locations around the area.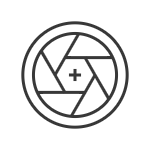 Zoom Lens Security Cameras
Lorex zoom lens cameras - otherwise known as varifocal lenses - come with optical zoom lenses that grant you the ability to zoom in and out without losing image quality. There is no loss of video quality because these zoom lenses physically move within the camera, adjusting the field of view as it moves closer or further away from the camera's sensor. This makes them perfect for monitoring distant areas in perfect detail. These lenses can be remotely operated from the recorder or through the Lorex Cloud app.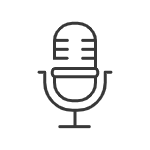 Lorex believes that security coverage is not limited to video recordings. It expands well beyond the things seen, like sound. By incorporating audio capability in our select cameras, we are transforming the traditional concept of video surveillance into audio-capable security systems. Some audio security cameras incorporate a built-in microphone for listen-in audio only, while others include both a microphone and speaker for two-way talk functionality.

Active Deterrence Security Cameras
Active Deterrence cameras have one goal in mind - to stop trespassers from violating your privacy before it happens. These cameras are equipped with a powerful siren and bright lights that are meant to deter potential threats from your house. The light can be configured to be always on or activated by motion. The siren, on the other hand, must be manually activated through the mobile app. So if you receive a notification indicating a potential threat, you can easily turn the siren on.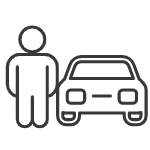 Smart Detection Security Cameras
Lorex Smart Detection security cameras are the most advanced in our lineup. They include new Artifical Intelligence technology that detects both people and vehicles. This means that if a person or vehicle enters the camera's field of view, you will get a notification telling you that either a person or vehicle has been detected with an accompanying snapshot image. This advanced feature also helps reduce unwanted motion notifications that would otherwise by triggered by things such as animals or other moving objects.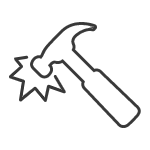 Vandal-Proof Security Cameras
All cameras from Lorex come with vandal-resistant exteriors and cable-pass through designs to prevent tampering. Some cameras, however, are designed to be better at surviving forceful impacts. These cameras are indicated by an IK-10 vandal-proof rating. Protected by heavy-duty aluminum housings, these cameras can resist large impacts without damaging the components inside. This makes them perfect for "within-reach" camera placements inside of stores, storage buildings, apartments, or businesses.
Specialty security cameras are sold individually or as part of pre-configured bundled systems. If you wish to add further specialty cameras to your system, please note the amount of free channels on your recorder. In some cases our bundled systems come with the exact amount of cameras that the recorder can use. In other cases, we have purposefully left open channels so you can add further cameras.