Get FREE standard shipping on orders over $100

WIRED, WIRELESS, AND WIRE-FREE
Our security cameras use different technologies to serve different purposes:
Wired security cameras are built for 24/7 continuous recording and offer the highest level of security monitoring. They are connected to a recorder by either an ethernet cable (IP) or a coaxial cable (Analog / MPX).
Why Choose a Wired Solution?

Highest reliability
Best video quality
24/7 recording
Up to 32-channels
Wireless cameras connect to your local network and record events locally. Simply connect them to a power source and the mobile app. Mix and match Wi-Fi cameras to create a more customized security set-up.
Why Choose a Wi-Fi Solution?

Plug and play installation
Wide-variety of products
Smartphone monitoring
Work with Lorex Smart Home Security Center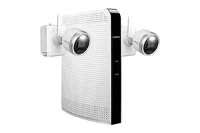 Wire-Free cameras use rechargeable batteries for power, which makes them easy to install anywhere you want. They are motion-based, so they turn on and start recording when motion is detected and then return to standby mode.
Why Choose a Wire-Free Solution?

Easy installation
Placement flexibility
Deterrence warning lights and siren
Up to 6 cameras